In many cultures sport is an integral part of life. From the early days when learning to kick a ball was critical to developing good motor skills to playing sports at the professional level, and everything in between, boys and girls, men and women, have known the value of playing at least one sport either competitively or for leisure. Sports can be as simple as the age-old pastime of kicking a soda can along the street or can be as highly challenging as a round of golf on a world class golf course.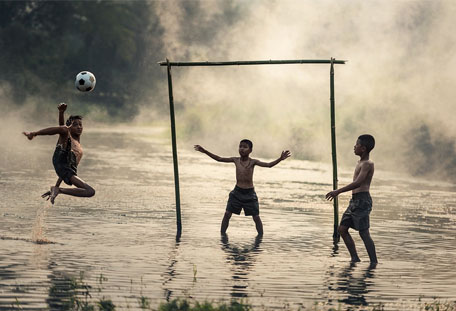 For the poor playing many sports is beyond reach. Not because they are not capable of playing but that the cost is prohibitive to doing so. By the time the cost of specialist equipment and sportswear are tallied up many people in poor communities around the world simply do not have the financial resources to participate.
That being said sports can have a positive impact on international development and combating poverty. On its own, however, sports will not eradicate poverty and should not be seen as a one-size-fits-all solution but instead as part of a broader effort towards reducing poverty. Every child regardless of gender, race or physical capability has the right to participate in sports, and enjoy the many health benefits such participation provides as well as fostering social interaction, team spirit and having fun. Sports programs can go a long way towards removing the divisive lines of inequality between girls and boys by encouraging girls to participate in sports that have been traditionally played by boys. It is imperative that any sports programs that are implemented in poor communities include all children without prejudice.
One such program in Colombia instituted a quota rule that dictated that a certain number of members of a football team had to be girls, and to avoid those girls being seen as only quota-fillers the program went one step further and made a rule that the first goal had to be scored by a girl. This program educated girls on their right to play any sport and also showed them that they are equally capable of playing such sports. The boys were encouraged to see their female team members as equally capable of playing football as they are. In this way a valuable life lesson was learned by both girls and boys.
Another important way that sports can help reduce poverty is through large international sporting events. Being able to hold such events in a community's area can be a boon for the commerce of that area and lessen poverty. The media attention and excitement about hosting an international sporting event can also provide encouragement to children to strive to be as good as the competitors. After all, every famous athlete, regardless of what sport they participate in, was once a child and likely started their interest in sports by simply kicking a ball around as a toddler.
Sport really can make a difference in the life of a child, especially a child who is living in poverty.